Arena Jetan ONE OF A KIND, Hand Made. Incredible Game of MARS! E. R. Burroughs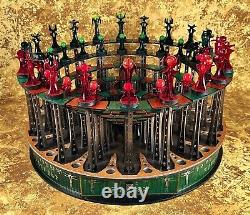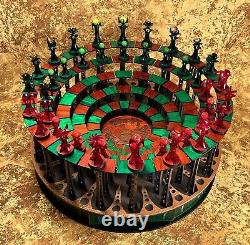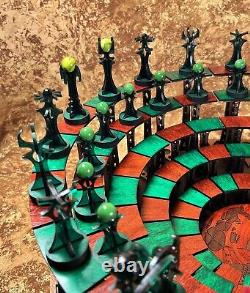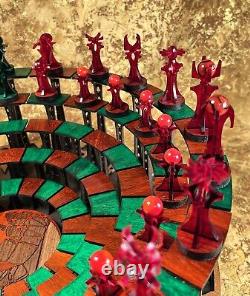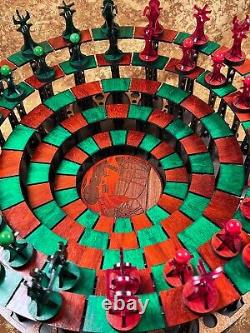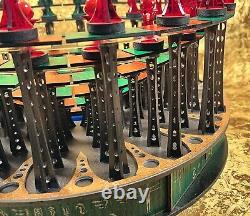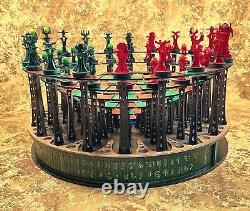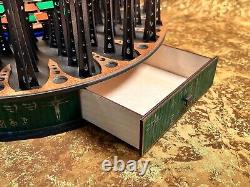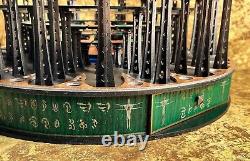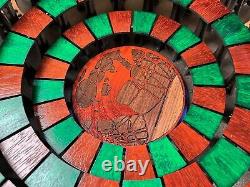 This version of Jetan represents the culture of the Tharks, the "Green Martians", and their ongoing War with the Red Martians. In the books the Tharks are particularly keen on throwing people into an Arena to battle for their honor (but mostly as a form of capital punishment). I thought a variant of Jetan based on that Thark cultural tradition seemed like a cool idea.
This game plays exactly as the standard game of Jetan does, with the added variant of having a round, three dimensional board as well as having a combat Arena in the center. The Arena is a place in which with the right move one can place one of their pieces into the arena to battle an opponents piece.
This combat is done through a series of special dice that are thrown and scored accordingly. The rules are based on 9th Ray Jetan.
You can read about that game here.. The board itself uses a variety of materials, from exotic hardwoods to different colored acrylics. It was a side project I have had going for a while now and will likely never go into production.
It is simply too time consuming and to costly to make. I might in the future design a simpler version of this game, but this deluxe version is a one off. The game itself measures about 18" inches in diameter and about 12" inches or so tall. Comes with pawns as the board has a drawer that holds all of the playing pieces when not in use.