One Of A Kind Real Photo Postcard Galapagos Islands Used June 1935, Pago Pago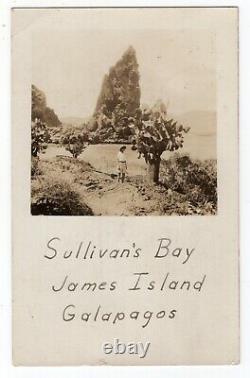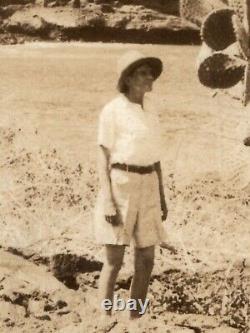 ONE OF A KIND REAL PHOTO POSTCARD GALAPAGOS ISLANDS POSTALLY USED JUNE 1935. SULLIVAN'S BAY, JAMES ISLAND.
THE EARLIEST KNOWN POSTCARD OF THE GALAPAGOS ISLANDS. POSTALLY USED FROM PAGO PAGO SAMOA WITH AN HISTORIC MESSAGE. PAGO PAGO SAMOA, 8000 MILES OF PLEASANT SAILING.
HOW WOULD YOU LIKE TO JOIN US? One of the most recognizable and photographed landmarks in the islands is Pinnacle Rock. It was formed by an eruption from an underwater volcano that has eroded over the years to form its iconic shape. Pinnacle Rock is the remains of an eroded tuff cone, tuff is a form of compacted volcanic ash, usually found near the coast. The two beaches next to Pinnacle rock are beautiful and popular snorkeling sites to explore the wildlife.
After you've seen the rock up close, we suggest climbing to the summit of Bartolome Island so you can see breathtaking views of Pinnacle rock from afar. Originally named James Island after King James II of England, it was a favourite island for pirates and whalers and has a long human history as well as outstanding wildlife viewing. The fourth biggest island (after Isabela, Fernandina and Santa Cruz) it has an area of 365 square miles and a maximum elevation of 2,975 feet.
Along with Isabela and Fernandina in the west, it is also one of the most volcanically active, with many young flows and cones visible particularly along the south, west and east coasts. Santiago Island actually consists of two coalesced volcanoes, a typical shield volcano on the north western end and a low, linear fissure volcano on the south eastern end. Once rich with vegetation, the island has been devastated by the release of feral goats in the 1880's and pigs, which caused massive devastation of the native flora and fauna of the island. Thankfully as part of Project Isabela, a complete eradication of goats, pigs and donkey's has been achieved (the island was declared pig-free in 2000 and goat and donkey free in 2006). The restoration of the vegetation since then has occurred rapidly.
This was the island where Charles Darwin spent the majority of his land visits in Galapagos. At James Bay, the Fur Seal Grottos provide great chances to get close views of both Fur Seals and Galapagos Sea Lions in a series of rocky pools. This visit also provides some of the best opportunities for tide-pooling in the Galapagos, and chances to see shore birds such as Plovers, Sandpipers, Herons and Oystercatchers. The snorkel from the beach is excellent. Sullivan Bay - This site is of great geological interest and is located southeast of Santiago Island. Sullivan Bay offers a rare look at a recently formed lava field. Located on the eastern coast of James Island, just across from Bartolome, this lava field is thought to have been created in eruptions that took place around 1890. Playa Espumilla - This tawny beach on the island is a favorite nesting ground of Green Sea Turtles. There is a trail going inland with some very large Palo Santo trees where a number of land birds can be seen, including the Galapagos Flycatcher, the Galapagos Dove, Darwin Finches and Galapagos Mockingbirds.
The beautiful sandy beach is a great place to swim and has some great mangrove areas.. This item is in the category "Collectibles\Photographic Images\Photographs". The seller is "marcishalloween" and is located in this country: US. This item can be shipped worldwide.
Time Period Manufactured: 1925-1949