Antique Ring of Solomon Trench Knife Talisman Handmade One of a Kind Pearl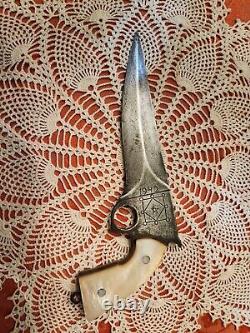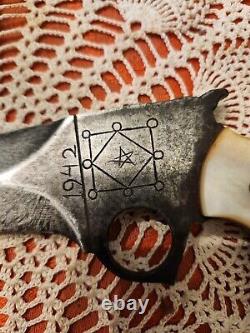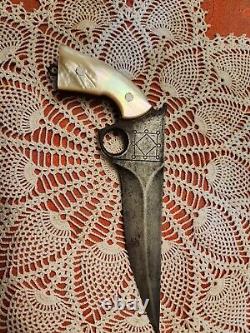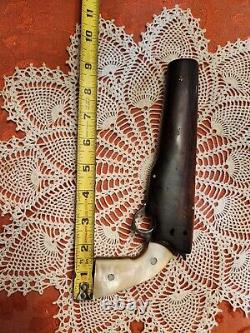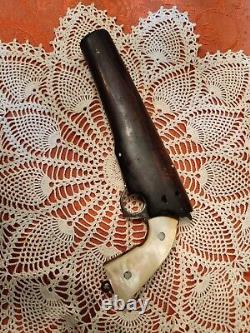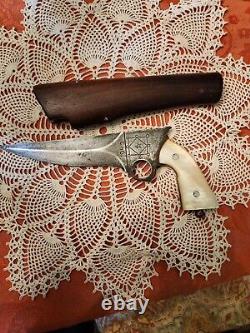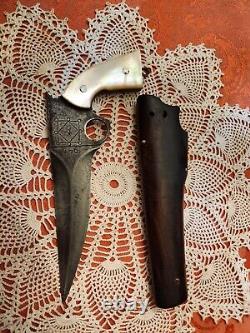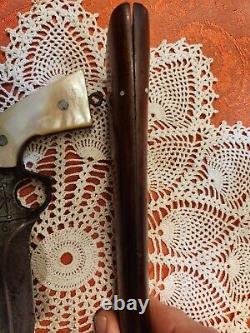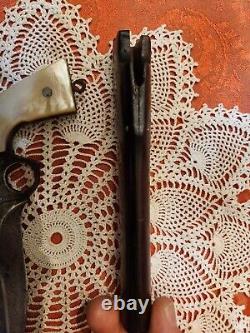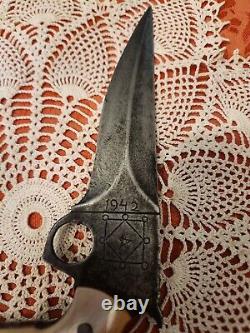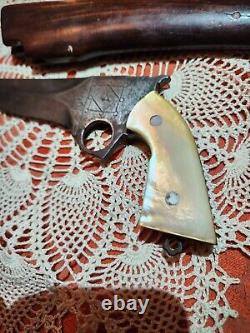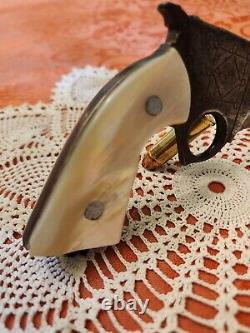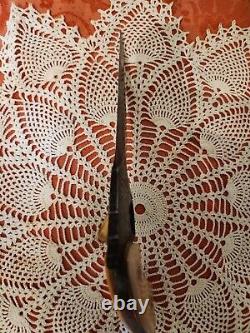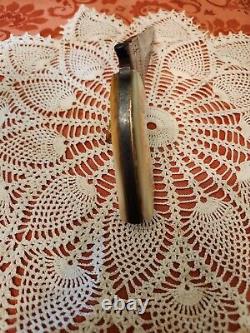 The above is an antique WW2 trench knife engraved with the Seal of the Ring of Solomon, from presumably 1942. Handmade with wooden scabbard and hand carvings. The Seal of Solomon is said in lore across multitudes of religions to give powers unto the wearer. From making the wearer invisible to evil, allowing them to supposedly communicate with animals, to providing good fortune. An excerpt regarding it from the British Asian and African studies Library says the following. "Inilah syarh cincin Sulaiman'alayhi al-salam, barangsiapa memakai dia rezekinya pun tiada berkurang, tamat,'This is an explanation of the ring of Solomon, peace be upon him: whoever wears it will never lack for fortune, the end". Some more information on Solomon himself and the magic symbol. The name'Sulaiman' refers to the Islamic prophet Sulayman bin Dawud, known from earlier Christian and Jewish tradition and sacred texts as King Solomon, son of King David.
Sulayman is frequently mentioned in the Qur'an, with many descriptions of his esoteric knowledge granted by God: he could understand the speech of birds and animals Q. 27:16, 19, and he was able to command legions of jinn Q. His magic power was believed to be effected by the means of a talismanic ring engraved with'the most great name' of God, which in Arabic magical texts and on amulets is represented by seven symbols,'the seven seals of Solomon'. One of the symbols which makes up the'seven seals of Solomon' is a five or six-pointed star. The star alone, whether a pentagram or hexagram, is a very common amulet encountered in Islamic magic which is itself called'the seal of Solomon', khatam Sulayman.
Very occasionally, the star is eight-pointed, and this may have been a crucial link with the eight-looped symbol, which has become known in Malay as'the ring of Solomon', cincin Sulaiman. You can read more about the Seal here, there are a few variations. This item is an antique so wear is to be expected, please review the many photos for details. It really should belong in a musuem.
This item is in the category "Collectibles\Knives, Swords & Blades\Collectible Fixed Blade Knives\Modern Fixed Blade\Custom & Handmade". The seller is "ryaraike-0" and is located in this country: US.
This item can be shipped worldwide.
Handle Material: pearl