Dc Sabers Sovran V3 Lightsaber. One Of A Kind Custom Hand Made Creation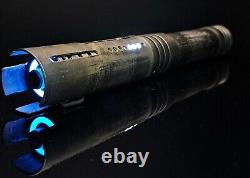 I recently received this masterpiece from John at Dc Sabers in the UK. I waited 10 months to receive this item but you don't have to.
The 10 months was completely worth the wait. If you have any questions let me know. It comes with a proffie sound board, rechargeable non removable battery.
No blade included but charger will be included. Industrial and powerful, this saber was created by the Jedi orders greatest engineer, customised and over powered the saber was crafted from. The hardest durasteel harvested from a downed Jedi Fighter. Each Sovran is unique, the steel shroud and brass detailing are custom for each saber making the one you order one of a kind. This saber is installed NeoPixel.
Proffie v2.2 (with custom Sovran Config). KeepPower 18650 Lithium Ion battery (non Removable).