Fedoskino One of a Kind Russian Lacquer Box Baba-Yaga by Alexander Maslov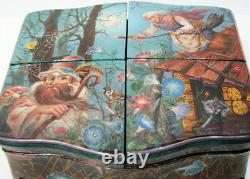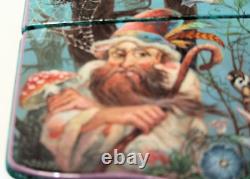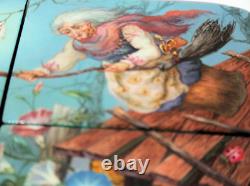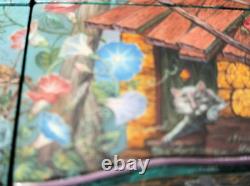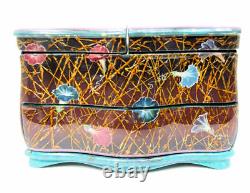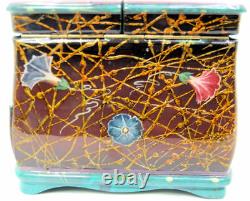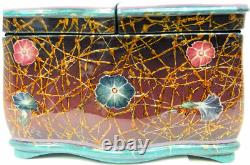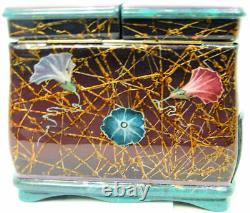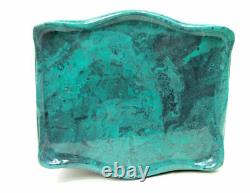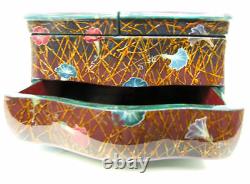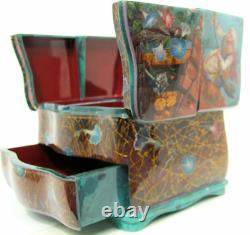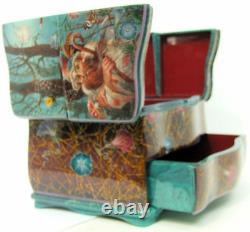 Russian Lacquer box By the very talented artist Alexander Maslov in this work he features the classic tale of Baba-Yaga. Maslov is a graduate of the Fedoskino art school. This is a compartment box the top of the box opens in four different areas as well as the box facing you also has compartments that open as well.
On the top of the box the artist portrays a witch Baba-Yaga flying across the sky with a garden knome keeping a look out with the creatures staring out. Any white patches in the photos are from the camera's light reflection. The box is signed by the artist Maslov on the lid of the box. Alexander Maslov is the talented Fedoskino artist who is able to make the magic world of a Russian fairy-tales come true.
His favorite heroine of a Russian fairy-tale is the forest witch, Baba-Yaga and he likes to depict this heroine in his unique compositions. Alexander is the oldest brother in the Maslovs family, his younger brother Vladislav is also well-known talented artist. Baba-Yaga is the oldest character of the Slavonic mythology.
Originally Baba-Yaga was the goddess of death; people imagined her as a woman with the snake tail who guarded the entrance into the other world and accompanied the souls of dead people into the Kingdom of the Dead. Baba-Yaga is the most famous figure in Russian fairy-tales that represents evil. The box was created in 2017 and signed by the artist Alexander Maslov. The size of the box is 8 x 5 x 5 inches. (20 x 13 x 13 cm).
It has a nice finish one the bottom that resembles marble. The item "Fedoskino One of a Kind Russian Lacquer Box Baba-Yaga by Alexander Maslov" is in sale since Thursday, April 18, 2019.
This item is in the category "Collectibles\Cultures & Ethnicities\Russian". The seller is "randlltd5z8f" and is located in Las Vegas, Nevada. This item can be shipped worldwide.
Country/Region of Manufacture: Russian Federation