New Taaz Custom Made One Of Kind Quartermaster Bone Handle Fixed Blade Knife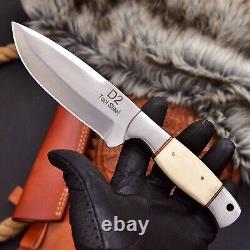 The Top Quality Materials, fit and Finish of Knives are our priority with Top Makers If you are not Happy with the Quality, Just Send it Back! But Once you Get one in your Hands, you will see the Top Notch Craftsmanship and Work!! HANDMADE CUSTOM D2 HUNTING BOWIE KNIFE CAMEL BONE HANDLE- 377. This beautiful knife was 100% hand forged.
This awesome handmade knife is 10" long, with a 6.5" blade made of D2 Tool Steel. D2 tool steel is a combination of high carbon and high chromium tool steel that's heat treated and air hardened.
This blade has a Rockwell hardness of 58-60HRC, and is 6.50MM thick. The blade was professionally sharpened at 25 degrees resulting in an extremely sharp and durable edge. The ergonomic and beautiful handle is made of stained camel bone with a steel handguard and endcap.