ALICE COOPER and BILLION DOLLAR BABIES ONE OF A KIND RARE COLLECTABLES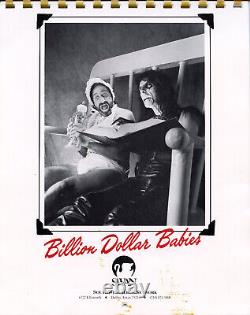 Alice Cooper and Michael Bruce one of a kind master 35mm slides. These are the original master 35mm slides.
My scanner is not able to scan. These slide in high resolution. These slides are one of a kind, no other copies in gem mint condition. The photo of Alice and Michael Bruce at the urinal is one of the last photos taken.
Of Alice and Michael in show clothing. This might be the rarest photo of these. Two together as Alice Cooper and The Billion Dollar Babies. This slide is of the highest quality and ideal.
For extra large poster prints or other places requiring large size printing. This is a masterpiece historic. Photo that of the highest quality. No one else has this slide. It is a one of a kind.
This slide photo is super sharp, in focus with true and accurate. The other slide is a one of a kind photo of Michael Bruce during photo shoot in 1976. The automobile sales slip was in the glove box of the car when Michael Bruce gave me. The station wagon when he was living in Incline Village, Lake Tahoe.
This calendar is just a really rare calendar that was printed for the top executives of the record. Industry back in 1988 and only mailed to the record industry executives.