One of Kind Piece for Egyptian Goddess Isis Statuette, Coloured Isis Statue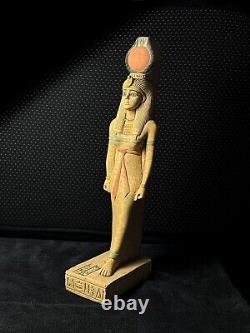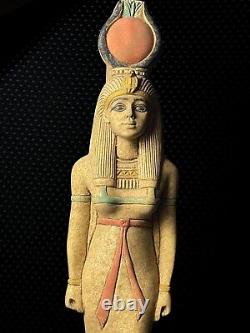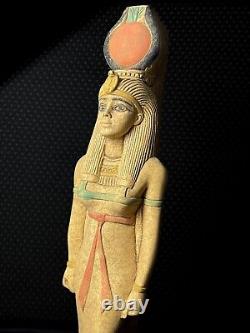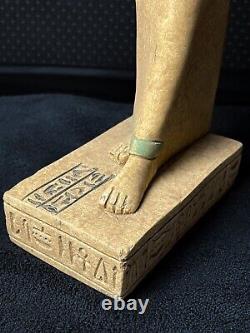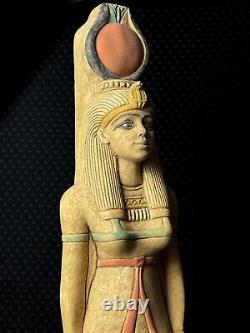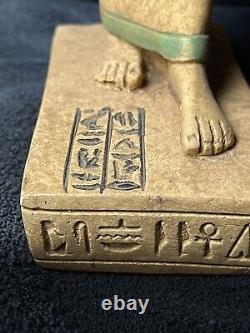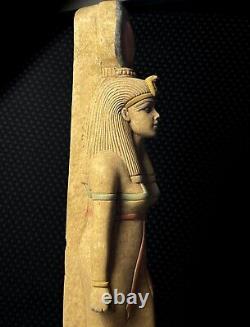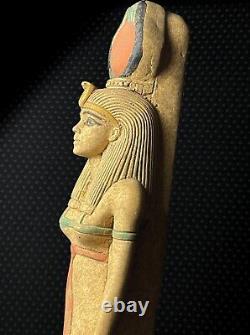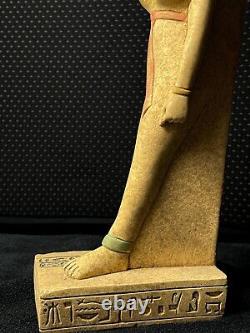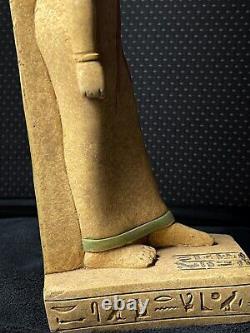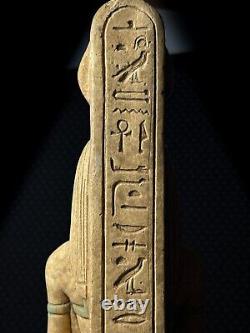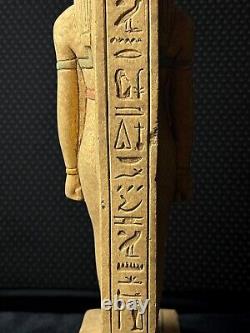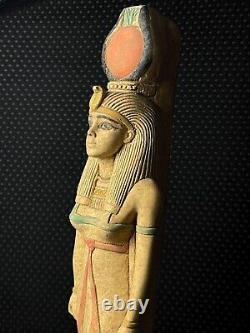 If you're looking for a unique and beautiful piece of art, look no further. The statue is the perfect way to add some flair to any home or office. The coloured Goddess Isis statue carved from Egyptian stone is an exquisite work of art that captures the essence and beauty of the ancient Egyptian goddess. Standing at approximately three feet tall, the statue showcases the remarkable craftsmanship and attention to detail of the skilled artisans of ancient Egypt. The statue depicts the goddess Isis, one of the most revered and powerful deities in Egyptian mythology.
She is portrayed as a regal and serene figure, with a slender yet graceful form. Her body is sculpted with meticulous precision, showcasing the delicate curves and contours of a woman. The statue's vibrant colours enhance its visual appeal and add a sense of life to the artwork. The artisans have used a palette of rich and vivid hues, meticulously applied to the stone surface. Isis is depicted wearing a headdress adorned with a solar disk, with cow horns extending from either side.
The headdress is beautifully painted with vibrant shades of gold, contrasting against her dark hair cascading down her back. Her facial features are rendered with remarkable precision, portraying a sense of serenity and wisdom. Her almond-shaped eyes, outlined with kohl, exude a gentle yet powerful gaze. Her lips are delicately shaped, evoking a sense of tranquility and grace. The statue is further embellished with hieroglyphic inscriptions and intricate patterns, carefully etched into the stone. These symbols and motifs tell stories and convey the divine significance of Isis, adding a layer of depth and symbolism to the artwork. Overall, the coloured Goddess Isis statue from Egyptian stone is a captivating representation of one of the most revered goddesses of ancient Egypt. It serves as a testament to the artistic brilliance and spiritual devotion of the ancient Egyptians, and as a cherished artifact, it brings a touch of mystique and beauty to any space it graces. Join Excavations and embark on a journey through time - follow our store for a chance to own a piece of history and add a touch of authenticity to your home decor!