Unique One of a Kind Hand Black Carved Mushroom God (only one available)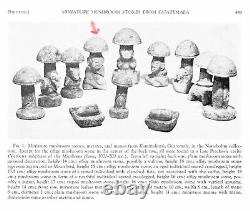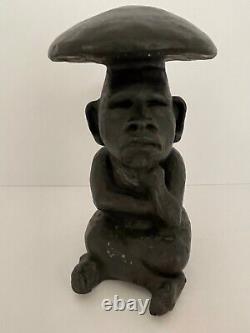 Unique One of a Kind Black Hand Carved Mushroom God. We recently acquired a beautiful estate full of meticulously cared for powerful items. This listing is for the very unique one of a kind Black Hand Carved Mushroom God. It is meticulously finished and made of beautiful black resin by highly skilled artisans.
There is only one available. The statue is very powerful and a real beauty. It stands approx 9 inches high x 6 inches wide x 5 inches in depth. Search presents visual evidence that both the hallucinogenic Amanita muscaria mushroom and the Psilocybin mushroom were worshiped and venerated as Gods in ancient Mesoamerica.
These sacred mushrooms were so cleverly encoded in the religious art of the New World, "Hidden in Plain Sight" that prior to this study they virtually escaped detection. Borhegyi based his theory on his identification of a mushroom stone cult that came into. Existence in the Guatemala Highlands and Pacific coastal area around 1000 B. Trophy head cult associated with human sacrifice and the Mesoamerican ballgame. He supported this theory with a solid body of archaeological and historical evidence, much of it based on the discovery of a number of small carved stone figures in the form of mushrooms.
The ancient cultures of the Nahua and Maya developed similar ideologies and mythologies. From the same Olmec roots.
The sacred mushroom ritual shared by these cultures was intended to establish direct communication between Earth and Heaven (sky) in order to unite man with god. As told in the Popol Vuh, the sacred book of the ancient Quiche Maya, the sun-god of the Maya, Kinich Ajaw. And his Aztec equivalent, Huitzilopochtli, would be extinguished in.
The underworld if not nourished with the blood of human h. Quetzalcoatl's essence in the world as a culture hero was to establish this communication. Quetzalcoatl taught that mankind must e at the sacred mushroom and make blood sacrifices in order to achieve immortality.
The majority of the statues had been found in Guatemala in the highlands or on the Pacific Piedmont--Maya areas along the. Intercontinental mountain range which were heavily influenced in Preclassic times by the powerful Olmec culture (Borhegyi, 1957, 1959, 1961, 1963). All reasonable offers will be considered.
Low Starting Price / No Reserve. Please check other additional listings. We will accept offers for multiple items. This item is in the category "Collectibles\Cultures & Ethnicities\Latin American\Mexico\Other Mexican Collectibles". The seller is "solaluz" and is located in this country: US. This item can be shipped to United States.